Ardfert Medieval Capital of Kerry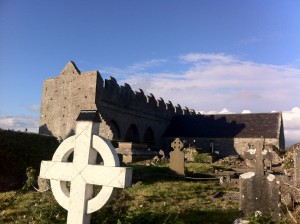 Ardfert was the place to be last night the 16th of May 2013.  A mass was being celebrated in Ardfert Cathedral as part of The Gathering Celebration.  It was streamed live on the 'The Gathering Channel' – www.thegatheringireland.com
Ardfert Cathedral was built on the site of an earlier monastic settlement founded by St. Brendan in the 6th century.   St. Brendan is reputed to have discovered America in the 6th century.
Ancestors From Ireland had an exhibition in St Brendan's Community Centre last night, we had a couple of hours to spare in Ardfert so we drove around and took a few photographs of the area.
The sun was shining and the light was amazing. Ardfert has everything a visitor to Ireland could hope to see medieval monuments, castles, arches and abbeys , great pubs and the Atlantic Ocean.    Ardfert is truly a hidden gem.
Have a look at Ancestors From Ireland's Facebook page for more images https://www.facebook.com/media/set/?set=a.505632762836921.1073741827.401904126543119&type=3&uploaded=42